Invariant E20
Invariant E20 is a trading research that issues buy and sell signals for commodity contracts initiating or extending price trends. It focuses on the S&P 500 E-mini, crude oil and gold markets.

Futures provide a leveraged path toward higher portfolio returns for individuals and institutions willing to accept more risk. They seem scary at first, but most newcomers come to realize that they are simply like driving on the freeway vs. taking surface streets: the action is faster, but if you stay in your lane and keep calm, the pace becomes normal and you arrive at your destination sooner.

Our proprietary research generates buy and sell signals for commodity futures contracts initiating or extending price trends. In math, "invariance" describes a property that remains unchanged when a transformation is applied to a formula. Likewise, our research adapts to changing conditions while adhering to an invariant central thesis, providing a bedrock of conviction for trades as they unfold.
We offer three packages of research -- E20, N20 and Y20 -- that each focus on a diverse set of three commodity contracts. Our research indicates that these three-contract bundles can gain around 5% per month on average over time, but at different paces that leapfrog each other. Position holding periods range from hours to days. Research-driven stops are provided and tightened frequently.
We do not offer brokerage services, so customers must engage a registered futures broker to manage their accounts under a "letter of direction." We provide a list of qualified brokers with experience at implementing our research, and regularly update customers on the progress of the contracts in members-only reports.
Our research suggests a minimum portfolio size of $20,000 for each three-contract bundle is ideal, but members should determine the appropriate portfolio size after discussion with their broker.
Each research program costs $275/month, or $1,650/six months. Our research indicates that purchasing two to three bundles for the purpose of attaining a diverse portfolio is ideal, but trading just one bundle is fine if preferred. The A60 bundle, our most popular, offers all nine contracts for six months at a discount.
In summary, Invariant offers active, adaptive futures research that can play an important role in investors' efforts to meet financial goals. Futures can be traded in an IRA account, and offer tax benefits over equities. Call (206) 651-4566 to learn more, or click the links above to subscribe now.
*
RECENT MONTHLY RESULTS (NET OF COSTS)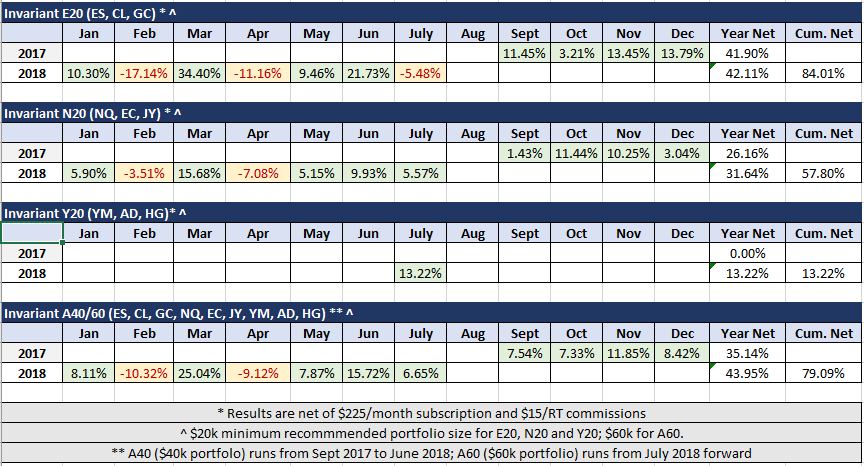 *

HOW TO START
We provide members with a list of qualified futures brokers authorized to trade based on Invariant research. The brokers have different commission rates and personalities. After you choose one, they will send you a "letter of direction," or LOD, that allows them to trade your account based on Invariant research. You should then fund the brokerage account. When the LOD is signed and the account funded, you must subscribe to one or more research programs at the Invariant website. The broker is then permitted to trade the account with research signals provided by Invariant.
Here are the currently authorized brokers:

-- Laura Taylor at RJ O'Brien: LTaylor@rjobrien.com; 312-373-4991.
-- Tim Eilers, BTR Trading: teilers@btrtrading.com; 800-453-4474.
-- Dan Neenan, Striker Securities: d.neenan@striker.com, (312) 987-0043.
*
NOTICE
Past results are no guarantee of future returns. All accounts may not achieve comparable results. Futures trading involves the risk of substantial loss. Although Invariant is systematic, it is also leveraged and speculative so only use risk capital -- i.e., money you can afford to lose.
The system's research is largely governed by algorithms but human discretion may be applied.
Each three-contract Invariant research bundle assumes a model portfolio size of $20,000. Reported returns are net of the cost of subscription and commissions and are not compounded.
Subscribers' accounts must be managed by approved professional brokers under letters of direction. This is an economical, hassle-free way to make sure research is handled accurately while also ensuring the integrity of the system.
The system only makes recommendations. Members control the brokerage positions. If a draw-down is larger than your risk tolerance, tell your broker to stop it out and wait for the next signal.
Markman Capital Insight is the developer and distributor of Invariant Futures.
Call us at (206) 651 4566 to discuss further, or click E20, N20, Y20 or A60 to sign up now.
*
HYPOTHETICAL PERFORMANCE RESULTS HAVE MANY INHERENT LIMITATIONS, SOME OF WHICH ARE DESCRIBED BELOW. NO REPRESENTATION IS BEING MADE THAT ANY ACCOUNT WILL OR IS LIKELY TO ACHIEVE PROFITS OR LOSSES SIMILAR TO THOSE SHOWN. IN FACT, THERE ARE FREQUENTLY SHARP DIFFERENCES BETWEEN HYPOTHETICAL PERFORMANCE RESULTS AND THE ACTUAL RESULTS SUBSEQUENTLY ACHIEVED BY ANY PARTICULAR TRADING PROGRAM. ONE OF THE LIMITATIONS OF HYPOTHETICAL PERFORMANCE RESULTS IS THAT THEY ARE GENERALLY PREPARED WITH THE BENEFIT OF HINDSIGHT.
IN ADDITION, HYPOTHETICAL TRADING DOES NOT INVOLVE FINANCIAL RISK, AND NO HYPOTHETICAL TRADING RECORD CAN COMPLETELY ACCOUNT FOR THE IMPACT OF FINANCIAL RISK IN ACTUAL TRADING. FOR EXAMPLE, THE ABILITY TO WITHSTAND LOSSES OR TO ADHERE TO A PARTICULAR TRADING PROGRAM IN SPITE OF TRADING LOSSES ARE MATERIAL POINTS WHICH CAN ALSO ADVERSELY AFFECT ACTUAL TRADING RESULTS. THERE ARE NUMEROUS OTHER FACTORS RELATED TO THE MARKETS IN GENERAL OR TO THE IMPLEMENTATION OF ANY SPECIFIC TRADING PROGRAM WHICH CANNOT BE FULLY ACCOUNTED FOR IN THE PREPARATION OF HYPOTHETICAL PERFORMANCE RESULTS AND ALL OF WHICH CAN ADVERSELY AFFECT ACTUAL TRADING RESULTS.