Risk Rewarded Blog /
May 8, 2015
Will a Robot Steal Your Job?
One of our big investment themes this year is the rise of extreme automation -- from transportation to communication, finance and more. Many new developments will make life easier and safer, yet it's fair to worry about whether automatons, or robots if you prefer, will snatch away your job.

It's no joke. Ed Yardeni of Yardeni Research believes that part of the reason wage inflation remains subdued, despite a 5.5% unemployment rate and a job market that has recently been growing at its best pace since the 1990s, is the rise of rudimentary robots. Wage inflation for all workers remains subdued at 2.1% while falling to 1.8% recently for production and nonsupervisory workers.
With the cost of necessities like food, shelter, and healthcare outpacing this, it's no wonder many in the middle class still feels a squeeze years after the recession ended. Yardeni wondered in a recent note to clients whether labor automation is partially to blame.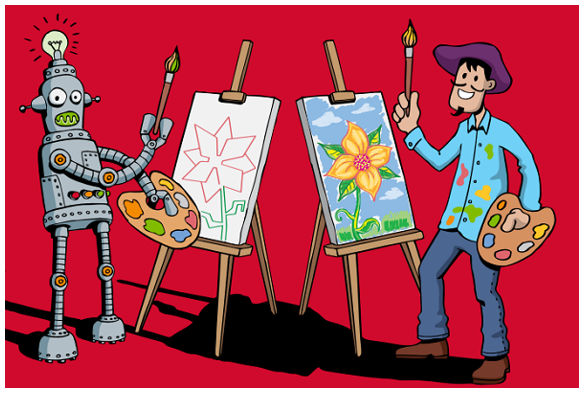 He highlighted a recent story in the Wall Street Journal out of Oxnard, California, where a 14-arm automated harvester recently wheeled through rows of strawberry plants -- a sign that even migrant workers in the agricultural industry could now simply be too expensive compared to a replacement built of metal, wire, and oil.
The New York Times reported that China, long known as the factory of the world due to a seemingly inexhaustible cheap labor supply, is seeing wages drift higher as demographics start to drain the pool of available workers. As a result, companies in the country are quickly moving to create and deploy an army of various industrial robots.
A new study by Nesta, a London-based non-profit research group, looked into the workforce consequences of automation. The report cover shot, above, pretty much sums up their thesis: Robots perform repetitive jobs well, but are challenged by non-routine tasks. Having a reasonably priced robot create a poem or write an original story isn't possible with today's technology.
Nesta found that of the 702 occupations categorized in the United States, 21% ranked as "highly creative" and offered the most protection against robot takeover (yes, I just wrote that). These are jobs like IT specialists, web designers, architects, and artists (although the ending of Fast and Furious 7 suggests that CGI actors could become a thing).
Jobs with low creativity that are at risk include mailing list operators and bartenders (check this out) among others, totaling 42% of the population. Just hope this does not include investment newsletter publishers.
As you might expect, there is an exchange traded fund specializing in robotics, shown above - -the Robo-Stox Global Robotics and Automation Index fund (ROBO). Many of the biggest stocks in the fund are listed overseas in China, Japan and the eurozone, but some of the better known U.S. holdings are IPG Photonics (IPGP), Nordson(NDSN), Accuray (ARAY), Intuitive Surgical (ISRG), Mobileye (MBLY), FLIR Systems(FLIR) and Rockwell Automation (ROK).
It's interesting that robots have virtually no positive representation in modern culture. The first robot that haunted my sleep was Master Cylinder, the villain of the "Felix the Cat" cartoons (see video). Who can forget his line, "End of the line for you. You are the grass, and I'm the lawnmower!" Fifty years after first introduced, the warning may be more true than ever.