Stocks recommended in our letters can be traded at any full service or online brokerage. These videos show step-by-step trade instructions with examples from letters. Blog posts explain how recent trades were set up and played out. The podcasts provide audio updates on recent plays.
Make Food Stocks a Portfolio Staple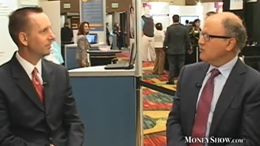 There are few things more essential than food and drink, so in tough times, keep it simple and buy what everyone needs, says Jon Markman.
Investors Rejoice: DeepMind's Revolutionary AI Drug Discovery Method Sparks Biotechnology Boom, Ark Genomic ETF (ARKG) Poised to Soar
An Alphabet (GOOGL) unit used artificial intelligence to disrupt the way new drugs are discovered. This is the best way for investors to take advantage. DeepMind announced July 28 the availability of a database of nearly all of the proteins known to science. The open-source project eliminates one of the mostly costly parts of biotechnology. Investors...
Markman in a Minute
Weekly review/outlook for the US stock market.