Stocks recommended in our letters can be traded at any full service or online brokerage. These videos show step-by-step trade instructions with examples from letters. Blog posts explain how recent trades were set up and played out. The podcasts provide audio updates on recent plays.
Make Food Stocks a Portfolio Staple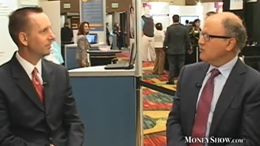 There are few things more essential than food and drink, so in tough times, keep it simple and buy what everyone needs, says Jon Markman.
I Am Buying Cadence Design And You Should Too
There is a glut of semiconductors, so say bearish investors. They're sort of right, yet it is not what you think.Safety is for suckers. Our suite of research services has helped thousands of independent investors grow wealth by harnessing the power of peril. Learn to turn fear and confusion into clarity, confidence -- and a fortune. Try our flagship...
Markman in a Minute
Weekly review/outlook for the US stock market.