Risk Rewarded Blog /
June 21, 2022
Its Time For The Bulls To Make A Stand - #NotesFromMyScorecard
-- The S&P 500 is down 19.1% in the second quarter alone. That's only the ninth quarterly decline of 15% or more since 1945.
-- So out of the 77 years and 308 quarters since 1945, we are witnessing market action that only happens 3% of the time.
-- The S&P 500 is also down 23% in the first half of 2022. Bespoke Investment Group analysts report that since 1945, following quarterly drops of 15% or more, the S&P 500 has been up 6.2% in the following quarter and up an average of 15.1% over the next quarter, and up 26% in the next year. Over both the next half year and year, the index was up every time, according to the study. See the chart below, created by Bespoke analysts, for the details.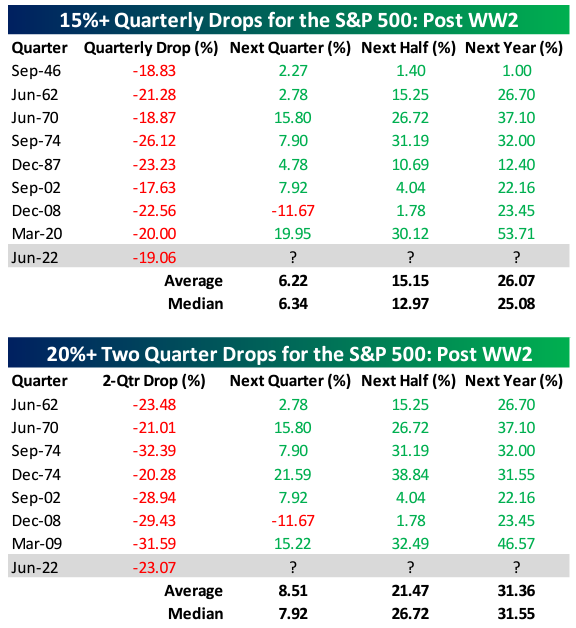 -- The negativity can work in our favor. A friend who provides a quantitative analysis to professional fund managers told me that since 1998, when the Nasdaq Composite has been down more than 10% over the last seven days ending on a Friday, the Nasdaq has always been up four days later with an average advance of 5%.
It's time, in short, for bulls to make a stand and prevent bears from becoming over-confident. Is it time for the much-vaunted summer rally in the face of all the glum faces? Could be. Stay tuned.
To learn how to improve your results in the market dramatically by buying options on stocks like Ford and Tesla, take a two-week trial to my special service, Tactical Options: Click here. Members have made more than 5x their money this year